6 Simple Ways How to Transfer Photos to Wood to Get Awesome Results
Wooden Pallet Projects is now Upcycle This DIY That. New name but the same great content!
This post includes affiliate links. If you decide to make a purchase through my link, I might get a small commission for it at no additional cost to you. Thank you for supporting Upcycle This DIY That!
Photo transfer techniques are becoming ever more popular, particularly for those looking to add something unique and personal to woodworking projects. If you're looking for different methods to transfer photos to wood, then you've come to the right place!
We'll take a look at how to use different methods and materials to get your photos from paper onto wood surfaces.
There is a good range of methods for transferring images, including mod podge transfers, iron-on transfers, image tracing, and transferring with tracing paper, as well as acetone or Xylene and wax/freezer paper transfers – the possibilities abound!
No matter which option you choose, you'll enjoy the unique result each method produces. If you're looking for a fun and creative DIY project, photo transfer methods are the way to go!
Image transfer to wood surfaces can give you a lot of possibilities to make some unique designs. DIY photo transfer projects make great gift ideas or even home or holiday decorations.
If you're thinking about giving your upcycling projects more artistic edge or simply want to try something new, this is a great way to do it. So hang tight, and let's get transferring!
YOU MAY ALSO BE INTERESTED IN:

3 Easy Ways How To Transfer A Pattern From Paper To Wood: A Quick Guide
Simple Tutorial On How To Transfer Photos To Canvas
Learn how to transfer photos to wood with these methods below:
1. DIY Photo Transfer Using Freezer Paper, Label Paper, or wax paper
Yes, you see that right. In this first tutorial, I want to show you how to use a simple freezer paper or labeling paper for the photo to wood transfer.
Tools and Materials needed:
A freezer paper/labeling paper/wax paper
I hurry to explain what labeling paper is. It's simply a back of a sheet of self-adhesive stickers
A photo editing software, don't worry, anything fancy 🙂
A clear finish like Mod Podge to preserve your photo
A wood surface like a wooden block or wood slice
Step-by-step method
In the first step, you need to mirror your photo. This way, you'll make sure that it'll come out correctly if there is any text in it. Then you print it on a glossy side of the freezer/wax paper. Important! You must be careful not to touch it. Otherwise, it'll smear and will be ruined.

Make sure that the wood surface you transfer the photo on is clean, free from any finish, and sanded smooth. Porous surfaces take in the ink better. A light color piece of wood works best here.

Put your photo face down onto the wood, and please don't move it. You've only got one shot at this. Otherwise, it will smear. Press it down. You can use a bit of thin stiff plastic to smooth it out gently.

Once you've done that, you can remove the paper from the wood. The photo is ready and dry. No need to wait for 24 hours for it to be ready; yay! You can seal it with some clear spray lacquer or a layer of mod podge.
You can have a look at how it's done here:
2. A Typography Transfer Using Chalk, Ballpoint Pen, and Paint
This method allows you to transfer any type of graphic/photo, mainly writings, onto wood or wall, etc. It's very easy and straightforward, although the most time-consuming, in my opinion. All you need to do this is:
tools and materials
digital image files or photos printed on a regular printer paper
a piece of chalk, a soft pen, or a pastel crayon
a ballpoint pen
The whole process consists of 3 simple steps.
Covering your photos with chalk or pastel

Putting the photo/graphic onto

wood, wall, or furniture
T

racing the outlines of the photo/graphic with a ballpoint pen

to transfer
All that's left to do is to use a small paintbrush or a pen marker and fill in the contours, and voila!
If you need your image blown up, you can use a free website called Block Posters and then print it on several paper sheets. Here is an excellent example of how to do it on a piece of wood furniture.
3. How to Transfer Photos with Glue and mod podge
This method allows you to use inkjet prints photos to be transferred to wood using Mod Podge – a medium used for photo transfer. I found out that most people say you can't use it with inkjet prints but only with laserjet printer ones.
This method that I've found on matsutakeblog.blogspot.com shows that you actually can. You can use normal printer paper or a piece of cardstock for the transfer.
All you need is to put some Elmer's glue on it before printing your photo. Remember to let it dry first! You don't want to break your printer 🙂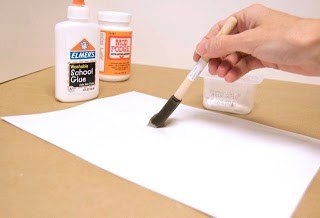 The glue should be on the side which you want to print on. After drying is time to print. Remember to mirror your image as well, if needed. Once the photo is printed, put a layer of mod podge on the piece of wood.
Now you press your image facing down onto the wood surface. Make sure you don't move it once it's stuck to Mod Podge. You can use a piece of plastic to smooth the surface out and get rid of all air bubbles.
You have to let it dry completely overnight, preferably 24 hours, and you're ready for the next step. Now the fun begins. You can immerse the wood piece in water, or if it's a large one like a furniture surface, etc., you soak it wet with a sponge or use a spray bottle.
When the paper is completely soaked, peel it off gently. You can hold it under running water for the small wood pieces. Then gently rub the rest of the paper pulp off with your fingers.
And that's it! You have a nice and smooth surface with your photo transfer on it. An easy method for DIY photo transfer to wood with glue.
Images courtesy of matsutakeblog.blogspot.co.uk
4. Photo Transfer Using Acetone or Xylol/Xylene
This is a fantastic photo transfer method you can use on wood, metal, and many other surfaces. I really like it because it is extremely easy. I found it on villabarnes.com.
It's another great way to make your upcycling projects more unique and exciting.
tools and materials needed
glass container
sponge
laser printer/ laser printed or copied images on regular paper
So what do you need? The simplest way is to buy a blender pen. You can get it in most craft shops or on Amazon. But if you're in the middle of a project and your blender pen stops working, you can use a different solution.
First is an old, well-known Acetone that can be used as a transfer medium. But not the nail polish remover kind unless you have 100% pure acetone without any additives.
A second way is actually using the solvent found in the blender pen, which is called Xylol/Xylene. For example, if you have a large image to transfer, you can get a big container in hardware stores.
In both cases, you must be careful while using them. They damage the skin, eyes, and respiratory system, so wear gloves, safety goggles, and face mask/respirator and use them in a WELL-VENTILATED AREA.
Use the solvents in a glass container and only small amounts at a time- they evaporate quickly. You can either dab your empty pen in or use a sponge.
Put the photo/graphic you want to transfer on the wood surface(remember to mirror it) and apply the acetone or Xylol. You can secure it by using some painter's tape.
Image courtesy of villabarnes.com
Try not to overdo it with the solvent because it may cause the ink to bleed. Several thin layers are better than pouring it over the image.
The next step is to rub the picture with the back of a spoon or a bone folder. Apply firm pressure but don't rush. You don't want to damage the paper.
Peel off the paper from the wood and let the transfer dry. Just to mention, this only works with laser-printed or copied images.
5. Photo Transfer to wood Using Gel Medium and Mod Podge
I think this is the most popular way for photo transfer to wood. It works with black and white or colored ones. It's very similar to Mod Podge and glue method, but instead of glue, a gel medium is used as a transfer medium and Mod Podge to finish off. All you need is the following:
Tools and materials
Laser printer or already printed image/picture- laserjet ones are best, or xerox copies; for color images, you can print them on photo paper(the quality of the photo is far better than normal paper) and then have it copied in color
a surface to transfer to, like a wood slice
First, make sure the wood is clean and dry without any finish. Then spread some of the gel medium on it and on the photo itself. Put the photo on the wood facing down and press.
Get a credit card or similar tool and get rid of all air bubbles and excess gel.
Let it dry overnight/for 24 hours, and then the same way as previously, wet the paper and rub it off. The last step is to put a layer of mod podge on top to seal it off.
A nice video to show you the steps:
6. Photo Transfer Using an Iron
This is the most, in my opinion, surprisingly easy way of transferring any color photo.
tools and materials
a hot iron
photo printed with a laser printer on regular paper or
a photo printed on "iron on" paper
piece of the wood surface like a wood slice to transfer to
Then you have to follow some simple steps:
For "iron on" paper, follow the steps:
Looking through many tutorials online, I've found all the different uses for Mod Podge, for example some use it as a sealant, and some as a photo transfer medium. The same goes for using inkjet and laserjet prints.
I guess this is a bit of a trial-and-error method. So pick one and if it doesn't work, try another one until you find one that produces the best results.
If you want a more vintage look but only have new wood to work with, check my post on how to distress wood and make it look old and weathered.
FAQs
If you have different experiences with transferring photos to wood, failures perhaps? I'd like to hear from you. My favorite is the transferring photo to wood with glue method, mostly because you can use your home printer to print the design/image.
Anyway, feel free to comment or drop me an email. And don't forget to pin it to your Image Transfer board 🙂
Have a fantastic day!
Subscribe To My FREE DIY Newsletter!
Stay in touch and receive things like updates, special offers, new projects, tips, gear reviews, and more. No spam, promise!
By entering your email address you agree to get an email newsletter from UpcycleThisDIYThat. I'll respect your privacy and you can unsubscribe at any time. For more details, review our Privacy Policy.