6 Simple Ways How to Transfer Photos to Wood to Get Awesome Results
This post includes affiliate links. If you decide to make a purchase through my link, I might get a small commission for it at no additional cost to you. Thank you for supporting Upcycle This DIY That!
Learn how to transfer photos to wood with these methods below:
1. Photo Transfer Using Freezer Paper, Label Paper, or wax paper
Step-by-step method
In the first step, you need to mirror your photo. This way, you'll make sure that it'll come out correctly if there is any text in it. Then you print it on a glossy side of the freezer/wax paper. Important! You must be careful not to touch it. Otherwise, it'll smear and will be ruined.

Make sure that the wood surface you transfer the photo on is clean, free from any finish, and sanded smooth. Porous surfaces take in the ink better. A light color piece of wood works best here.

Put your photo face down onto the wood, and please don't move it. You've only got one shot at this. Otherwise, it will smear. Press it down. You can use a bit of thin stiff plastic to smooth it out gently.

Once you've done that, you can remove the paper from the wood. The photo is ready and dry. No need to wait for 24 hours for it to be ready; yay! You can seal it with some clear spray lacquer or a layer of mod podge.
2. A Typography Transfer Using Chalk, Ballpoint Pen, and Paint
Covering your photos with chalk or pastel

Putting the photo/graphic onto

wood, wall, or furniture
T

racing the outlines of the photo/graphic with a ballpoint pen

to transfer
3. How to Transfer Photos with Glue and mod podge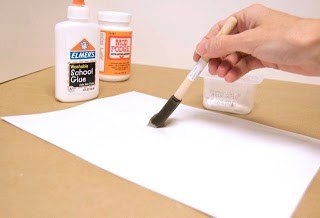 4. Photo Transfer Using Acetone or Xylol/Xylene
5. Photo Transfer to wood Using Gel Medium and Mod Podge
6. Photo Transfer Using an Iron
FAQs
Subscribe To My FREE DIY Newsletter!
Stay in touch and receive things like updates, special offers, new projects, tips, gear reviews, and more. No spam, promise!
By entering your email address, you agree to get an email newsletter from UpcycleThisDIYThat. I'll respect your privacy, and you can unsubscribe at any time. For more details, review our Privacy Policy.