20 Awesome DIY Halloween Decorations and Ideas
Wooden Pallet Projects is now Upcycle This DIY That. New name but the same great content!
This post includes affiliate links. If you decide to make a purchase through my link, I might get a small commission for it at no additional cost to you. Thank you for supporting Upcycle This DIY That!
While Halloween decorations are starting to pop up in shops everywhere making DIY Halloween decorations can be an awesome way to spend time with family and friends. Plus you get so much satisfaction from making your own creations. I bet the (little) people visiting your home for a treat or trick will love them.
You can find so many ideas and inspirations that I'm sure everyone will find something they like. From pumpkins made out of reclaimed wood to witches' hats, potion bottles, and ghosts.
When I was looking for these inspirations I wanted to make sure you'll find full tutorials on how to make them behind the link. So you can have a collection of projects ready to be made in one place.
Some of them, however, didn't have any instructions but I liked them so much I've decided to include them for your inspiration. Anyway, follow the links beneath each image to find how it's made.
YOU MAY ALSO BE INTERESTED IN:
21 Halloween Pallet Ideas and Decorations
23 Amazing DIY Fall Decorations Ideas
Distressed Halloween bottles how to
If you want to know how to distress new bottles to look old and creepy then you have to check this Distressed Halloween Bottles How-To from TheKimsFix site.
Halloween potion bottle labels
If you after these awesome Halloween Potion Bottle Labels then visit Nikki at Tikkido to get free printables and learn how to make them step by step.
Spooky Halloween potion bottles
More potion bottles coming your way 🙂 I love the shape of these Spooky Halloween Potion Bottles from LittleRedWindow site. Make sure you check out the tutorial to find out where you can get them from and how to make your own decor bottles.
Creepy skull wreath
This Creepy Skull Wreath looks scary and pretty at the same time. It will be a great door decoration for your fancy Halloween party. Learn how to make it from the MadeInADay site.
Crystal ball Halloween candlesticks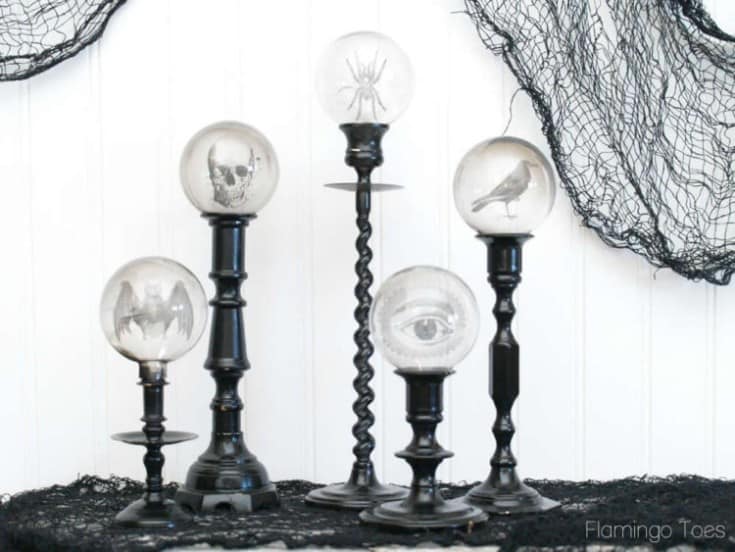 I love the look of these Crystal Ball Halloween Candlesticks. They would make a great mantelpiece or Halloween dinner party decor. Find the full tutorial on the FlamingoToes site.
Floating witch hat Luminaries
If you're after some porch decorations then check these Floating Witch Hat Luminaries from the PolkaDotChair site.
Halloween lanterns
Great use of mason jars to make these awesome Halloween Lanterns. Use real candles or LED tea lights, and you can play with colors as well — all instructions found on TheCountryChicCottage site.
DIY Halloween Black Cat Wood Cutout
You can make use of your jigsaw or scroll saw as they're the best saw for cutting shapes out of wood and create this DIY Halloween Black Cat Wood Cutout to decorate your porch or a window. Use pallet planks or a sheet of ply. You can even experiment with colors or make it glow in the dark. Follow the instructions on the JenWoodhouse site.
Rustic DIY Halloween Sign
A fantastic way to upcycle old pallet wood. Check the tutorial for this Rustic DIY Halloween Sign on the Oh-MyCreative site. You can use stencils or even practice transferring skull images to wood to make it more spooky. Check this simple way of transfer photo to wood with glue plus 5 other photo transfer methods.
Painted Gourds from Glass Liquor Bottles
I love these pumpkin bottles. To make it more Halloween like get rid of the green leaves and add some (scary) faces or/and an artificial spiderweb to them. Find out how to make these Painted Gourds from Glass Liquor Bottles on the SadieSeasongoods site.
Easy DIY Halloween Fence
Although this fence is made out of pine planks, you can easily use pallet boards. They won't need as much prep, and I think they would look better. Make sure you have all the materials and tools required:
Pallet Planks
Brown Twine
Wood Glue (Outdoor Glue Preferable)
Brown/Red Wood Stain or Paint
Stretchy Halloween "Creepy Spider Web"
Scrap wood pumpkin
Add a smiley or scary face, and you can turn this Scrap Wood Pumpkin into cool Halloween decoration. Check the tutorial on SimplyBeautifulByAngela.
Black Cat Pumpkins
These Black Cat Pumpkins look amazing and spooky at the same time. Imagine them on your porch or window with glowing orange eyes. Follow the steps found on the Sunset site.
DIY bat chandelier
This DIY Bat Chandelier would be fabulous for places with high ceilings. It's super easy and looks fantastic. All you need is quilting hoops, paper or foam bats, and some black craft paint. Find the tutorial on the ADiamondInTheStuff site.
DIY decorated witch hat
Ordinary witch hat turned into wicked centerpiece this DIY Decorated Witch Hat is a must for your Halloween decor. Find the tutorial on the TidyMom site.
Floating head hanging ghosts
Why not add some Floating Head Hanging Ghosts to the floating witch hats for even more spooky atmosphere. Find out how to make them on the SimplyDesigning site.
Cute DIY Halloween pumpkin witch
How amazing is this DIY Halloween Pumpkin Witch? What a fantastic way to decorate any space like a porch or a kitchen. Check the instructions on the FourGenerationsOneRoof site.
Wicked Halloween swamp lamps
These are super easy and look fantastic. Watch the video above or find the full tutorial on the Instructables website.
DIY wooden witch hat
Sadly couldn't find the source for this cool DIY Wooden Witch Hat. Use some scrap wooden planks or ply and carve the shape with a jigsaw or scroll saw. Distress it using a wood stain or paint. Add some raffia and perhaps swap the stars for spiders and little skulls. Check my post on how to distress wood and make it look old and weathered.
DIY boo wood cutouts
These cute DIY Boo Wood Cutouts are adorable and very easy to make. You don't even need any power tools to make them. Check the tutorial on how to make them over at MeganplusFive site.
I hope you liked these Halloween decor ideas and that they got you inspired to make some incredible, spooky decorations yourself. And don't forget to pin this article to your DIY Halloween decor board. Thanks for stopping by and happy creating!
Subscribe To My FREE DIY Newsletter!
Stay in touch and receive things like updates, special offers, new projects, tips, gear reviews, and more. No spam, promise!
By entering your email address you agree to get an email newsletter from UpcycleThisDIYThat. I'll respect your privacy and you can unsubscribe at any time. For more details, review our Privacy Policy.