Tool Tips: How to Use a Jigsaw to Cut a Straight Line
This post includes affiliate links. If you decide to make a purchase through my link, I might get a small commission for it at no additional cost to you. Thank you for supporting Upcyle This DIY That!
As you all know jigsaws manly are used for cutting curves and other funny irregular shapes. What about cutting straight lines? You usually would use a circular saw or table saw but what if you only got a jigsaw?
In this short post, I'm going to show you how to use a jigsaw to cut a straight line and what to pay attention to. I'm going to tell you what blade to use for the best results and what mistakes to avoid.
What jigsaw to use?
---
An old and I mean old like 40-year-old jigsaw just won't cut it. Why? Because it's only in 1990 manufacturers introduced guide bearings in consumer jigsaws. Without this important feature, you won't be able to cut a straight line. It acts as a second support point for the blade not allowing for a much side to side movement. As simple as that.
So if you still holding to your old jigsaw just get a new one. There is so much choice for every budget that there is no excuse not to. Check out my buying guide on the best jigsaws for every budget. Just keep in mind to get one with a bearing that has a center groove for the blade to fit in not the flat one.
What blades to use?
---
The short answer is a good quality blades. The long one it depends mainly on the project and type(hardness) of wood you're cutting. The material they're made of and TPI play an important role here as well as a size/width.
Bimetal or Tungsten Carbide blades are used for cutting the hardest of materials and are usually the most expensive ones but at the same time the most durable. Wider blades are the ones you should go for when cutting a straight line.
They tend to be more rigid and if you want a smooth cut go for blades with higher TPI(more teeth). The thickness of the material being cut is important as well so choose a blade that is long enough to complete the task.
Bosch has a great choice of blades for this purpose and you can check T101BF blade out on Amazon here.
Things you will need
---
The first step is to assemble all the required tools for the job. You will need a marker (pencil or chalk), a measuring tape, set square and a ruler to make perfectly straight lines, clamps to keep the wooden plank in place, and last but most importantly, a jigsaw.
I highly recommend using clamps as they make sure that your wooden pieces are held in place. When you cut using a jigsaw, the wood can move from its place, resulting in uneven cuts.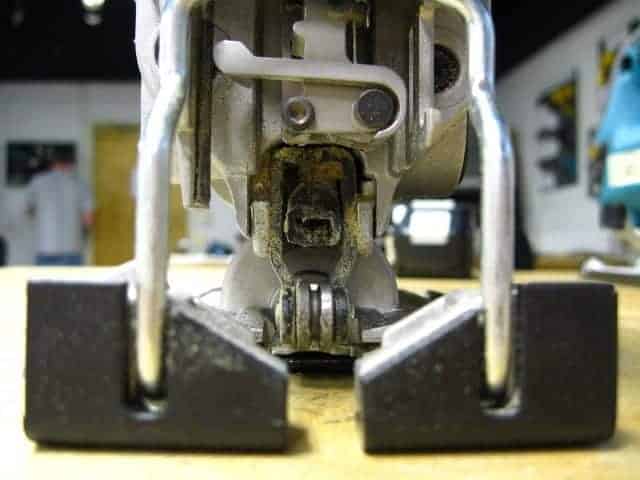 "DeWalt blower port and blade guide " by Sarah Grice, used under CC BY 2.0
The step by step process
---
#1. Mark the wood
No matter you are an expert or a novice, marking the wood for the cuts is the best practice. This way you make sure you get precise results. So, before you start cutting, mark the wood with a square and for long cuts a ruler and a pencil.
You can put marks randomly (leaving spaces in between) but for beginners, I recommend marking the entire line for easy cutting. Or you can clamp a combination square, ruler, or any guide to the workpiece and guide the shoe along it.
#2. A few words about cutting the wood
Now it is the time to cut. Place your saw on the workpiece. Your sawshoe must be on the marking. Switch the jigsaw on and start moving it forward following the line. This will help you cut a nice and precise straight line. Do not put any extra pressure on the saw and follow the pace of the saw.
Try to keep the blade on the line. Some jigsaws have a laser built in to help with that but the more you do it the more experience you'll have and the easier it will get. Just take it easy and don't force the cut. You can always sand it off afterward if needed.
"Handyman working with a jigsaw" by Marco Verch, used under CC BY 2.0
Cutting long pieces can be tricky so my piece of advice for long rip cuts is, use a table/circular saw or if you haven't got one get the piece cut at the store.
That's it. Now you know how to use a jigsaw to cut a straight line. It's pretty straightforward, isn't it? In a quick summary you'll have to :
Have a good jigsaw with guide bearings
Pick a quality blade that is wide, rigid, and appropriate for the material being cut
Mark the wood
Follow the markings and don't force the saw
Remember about safety gear like earplugs and safety goggles
Happy woodworking! Don't forget to pin this article to your woodworking tools tips board, thanks!
Subscribe To My FREE DIY Newsletter!
Stay in touch and receive things like updates, special offers, new projects, tips, gear reviews, and more. No spam, promise!
By entering your email address you agree to get an email newsletter from UpcycleThisDIYThat. I'll respect your privacy and you can unsubscribe at any time. For more details, review our Privacy Policy.