Tool Tips: What is the Difference Between a Belt Sander and a Disc Sander
This post includes affiliate links. If you decide to make a purchase through my link, I might get a small commission for it at no additional cost to you. Thank you for supporting Upcycle This DIY That!
When it comes to sanding wood, there are a few different types of sanders that you can use. From random orbital to sheet/finishing sanders to belt sanders and disc sanders.
If you want to learn what is the difference between a belt sander and a disc sander, I invite you to read this quick post.
I will discuss what each one is used for and its pros and cons. If you are just starting out in woodworking, or if you are doing some DIY projects around your home, then this information will be helpful for you!
YOU MAY ALSO BE INTERESTED IN:

Best Benchtop Belt Sander- Reviews And Buying Guide
Wood Sanding Tips For Upcycling And Pallet Projects
Tool Tips: What Is A Benchtop Belt Sander Used For?
Tool Tips: How To Use A Benchtop Belt Sander To Improve Your Woodworking Results
Belt sanders
These powerful tools are typically used for the quick removal or shaping of the material. They have a wide belt that spins around two drums. There are two types of belt sanders: stationary and handheld.
Stationary belt sanders are larger and more powerful than handheld ones but are also more expensive and serve different purposes.
Portable belt sanders are smaller but still pack a lot of power. They are great for smaller projects or when portability is needed.
Handheld belt sanders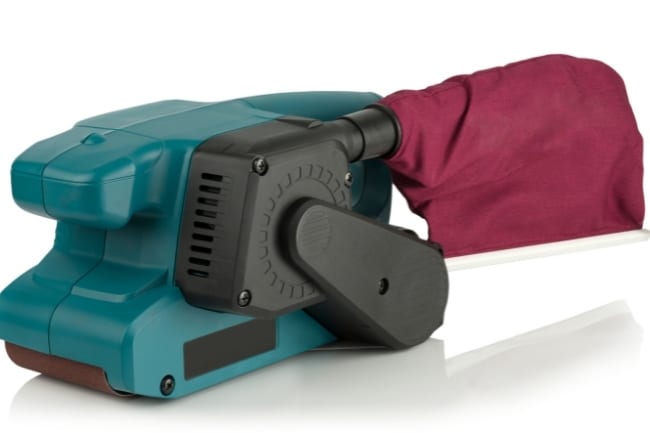 As mentioned above, they remove material fast and are portable. They are great for sanding rough wood and removing paint.
The drawback is that they can be difficult to control, and chances are of damaging the workpiece if you haven't got a lot of experience.
Some models can be attached to the workbench with the belt facing up and used as a small tabletop sander.
Tabletop/stationary sanders
These are Ideal for flattening and leveling longer pieces of timber.
The platen makes it really easy to get an acceptable flat surface. You can also use it for outside and inside curves around the idler on the belt sander.
The primary uses for tabletop belt sanders are trimming/truing miters, for example, shaping rough cuts made with a bandsaw or jigsaw or rounding the corners/edges. And, of course, flattening larger surfaces.
Disc sanders
Here I mean the stationary disc sanders and not random orbital ones. These are round-shaped and come in different diameters. They have a circular disc that spins and is covered with abrasive paper.
The disc is mounted vertically and has a small table in front for supporting the workpiece. They are ideal for end grain work, shaping subtle round corners, or removing large amounts of material quickly.
As well as truing miters and tidying up bandsaw or scroll saw cuts, same as the belt sanders. However, outside curves are done easier compared to the belt sanders.
Combo sanders
Although you can still buy the disc o belt sander as a separate tool, most popular models now come as a combo sander. This means that the machine has both a disc and a belt.
The advantage of this is that you save space in your workshop and money because you only need to buy one machine instead of two. And you can take advantage of both types of sanding in your work.
One thing to keep in mind is that if you are going to use the tool for professional work, then it is worth getting a good quality one because it will make your life a lot easier and save you time and money in the long run.
But if you are only going to use it occasionally, then a cheaper model will probably do the job just as well.
Whichever type you choose, make sure that you read the reviews before you buy to ensure that you get a good quality machine.
And always make sure that you wear the correct safety gear when using any type of sander.
I hope this short post has helped you understand the difference between these sanders and what each is best suited for. If you have any questions or comments, please leave them below, and I will be happy to answer them.
Happy sanding!
Subscribe To My FREE DIY Newsletter!
Stay in touch and receive things like updates, special offers, new projects, tips, gear reviews, and more. No spam, promise!
By entering your email address, you agree to get an email newsletter from UpcycleThisDIYThat. I'll respect your privacy, and you can unsubscribe at any time. For more details, review our Privacy Policy.
Last update on 2023-10-01 / Affiliate links / Images from Amazon Product Advertising API