27 Easy DIY Upcycling Ideas
Turning old, unwanted things into something unique and exciting is so much fun! I especially love when I can reuse an object that is already in my possession to create something new.
I've always been a fan of the upcycling process because it's such a creative way to give unloved objects new life. That being said, nothing compares to finding other ways of using your possessions—even if they are items you thought were useless before.
I'm sure there are literally thousands of other upcycling projects out there. Still, these DIY easy upcycling ideas are the ones I liked the most. I hope you'll find some inspiration for your creations as well.
Plastic bottles into faux concrete candlestick holders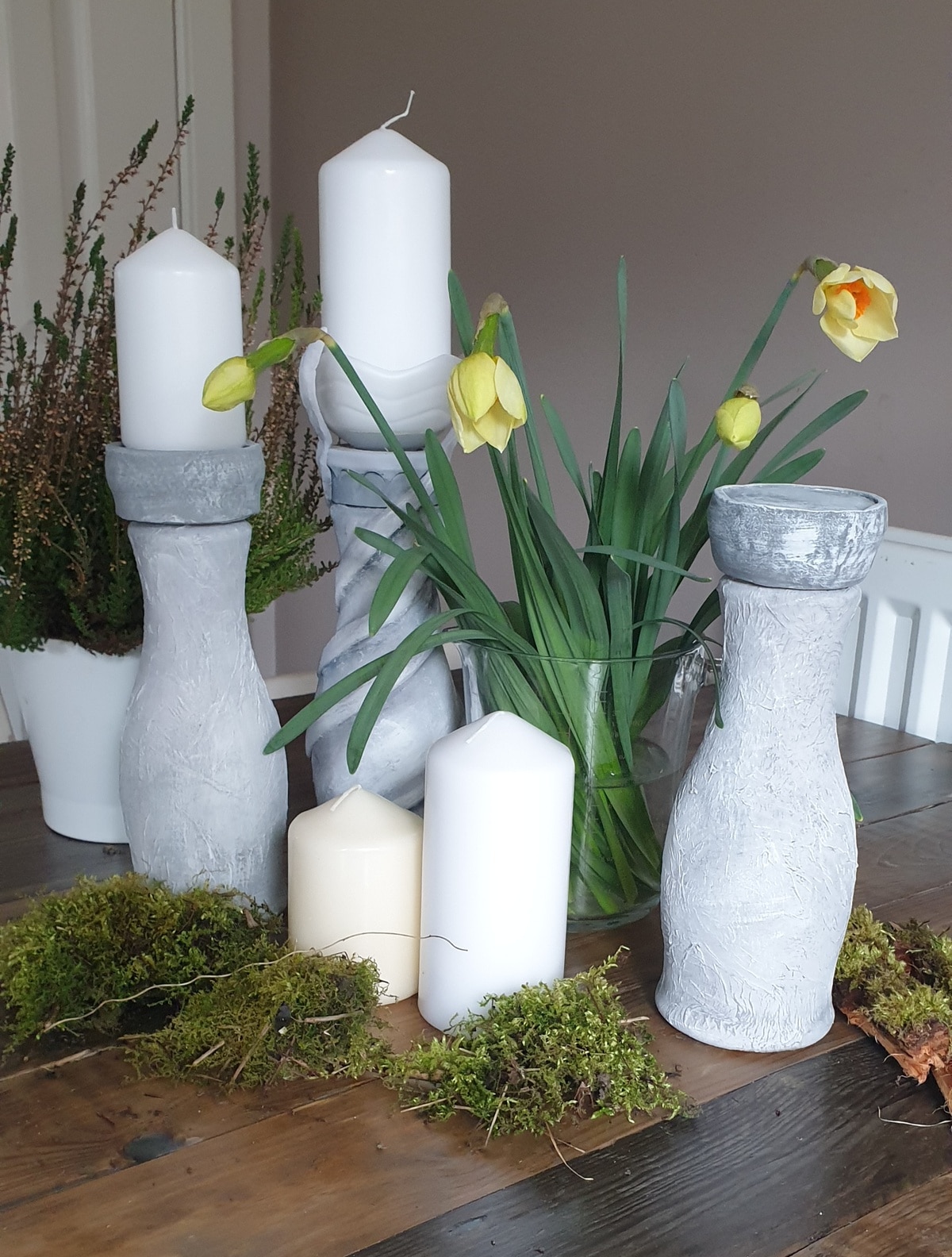 Check out this awesome transformation! Used plastic bottles turned into candlestick holders with a faux concrete/stone finish. Easy upcycling project to create a great addition to your home decor. Full tutorial found here- DIY Candlestick Holder- Upcycled Plastic Bottles with Faux Concrete/Stone Finish.
Boxes into baskets
This awesome idea, found on Elizabeth Joan Designs, will let you upcycle any unwanted boxes into these pretty storage baskets. And who hasn't got a tonne of Amazon boxes lying around asking to be turned into something nice? She also has a tutorial to make the basket liners, so make sure you'll check it out as well.
Coffee cans to pant pots
If you're a coffee-lover, I bet you've got many of these cans stacked up waiting to be turned into something useful and pretty. The idea is simple and doesn't require many tools and materials. Just some spray 2 in 1 primer and paint, a power drill, clothesline rope, and seashell necklaces(but you can use whatever you want). The final results would look awesome in a beach/marine-themed interior. Check the Wicker House for the full tutorial.
Recycled glass jars
Another super cute and quick project to make some storage jars. You can use them in the kitchen or for kids' art supplies, anything really. Perhaps bathroom storage for cotton balls etc.? Katie from Little House of Four used some scrapbook paper to decorate them, but you could use metallic paint or glitter if you like more bling.
Paint stirrers mirror
This project is so awesome I had to look twice to actually tell that it's been made out of paint stirrers. It's so simple and looks fantastic. All you need is some supplies like paint stir sticks, a round mirror, a stain, gorilla glue, wall hanger, and that's it. Great idea for a quick weekend project, and I bet it would also look great with a rectangular shaped mirror. Full tutorial at Decorating Cents.
Crate shelves
Super easy idea for creating shelving space using wooden crates. Although the concept comes from a Thea's Mania blog, which is a non-English site and the tutorial isn't in English, it's pretty simple to make. You just paint or stain the crates and hang them on the wall in some sort of organized composition that you like.
Recycled Soda Can Wall Art
It's pretty hard to believe that this wall art is made out of soda cans. But it is. That's so cool, isn't it? It takes recycling to a whole new level. And it's straightforward to make as well. Check the full tutorial at Purple Hues and Me.
Creative DIY Flower Pot Idea
Have you got a spare plastic flower bucket somewhere in the house? Then you must try this super easy and quick upcycling project. Ugly to pretty in no time 🙂 I'm sure you can make one for the garden as well. Find full instructions at Shabby Fufu.
Pine Cone Wreath
This is a fantastic idea for Christmas. It looks great. It's simple and yet pretty. Although it's already January when this post is being published, I'm sure you'll appreciate this project next time around. Full tutorial at Hometalk.
Upcycled glass jars into cute stencil vases
Do you have a plethora of glass jars that are just sitting around collecting dust? With some stencils, spray paint, and a little patience these upcycled jars can become cute stenciled vases for your home! Read on to learn how I turned my old jars into these cuties -> Upcycled glass jars into cute stenciled vases.
Headboard turned distressed quilt rack
This project shows that you can upcycle just about anything and give it a second life. If you happen to have an old wooden headboard collecting dust, you can easily change it into this beautiful quilt rack or towel rack. Get full instructions at Brepurposed.
DIY Candle flower branches
I am so excited to share this springtime DIY project with you. It's a super easy design that you can do in just minutes to brighten up your home for the new season! The supplies are all things I found lying around- an old candle, a crayon, and a few old branches. Create this beautiful blossom vase to welcome the spring into your home! Full tutorial found here – DIY Spring Crafts-Candle Flowering Branches Vase.
Rustic bath caddy
If you love taking long warm, relaxing baths, this project is right up your alley. Pretty easy to make and could be an excellent idea for the Valentine's Day gift as well.Step by step instructions at Ehow.
I actually do have one listed in my valentine's day gift post as well. The other one is a bit more advanced but beautiful indeed. Make sure to check it out.
Vintage entertainment center turned play kitchen
I'm sure you've seen all these fancy wooden toy kitchens for the little ones. They're adorable but so, so expensive. They literally can cost hundreds of dollars. So when I saw this upcycling project, I was sure I wanted it on my list. It's so cute 🙂 and not that difficult to make as well. Check it out on the Southern Revivals website.
Thrifted Dresser to TV Stand/Buffet/Entryway Table
I absolutely love this dresser flip project. It gave a new life to the old dresser, and it looks terrific. Hats off to Mellisa, she did a great job. Full tutorial at Twoityourself.
DIY Upcycled Utensil Holder
This is another simple and quick little project that can be done in an afternoon. So if you're bored with your plain utensil holder, this idea is excellent to add a little bit of character to your kitchen. Instructions at Homemade by Carmona.
DIY Upcycled Garden Planter
If you've got one of them cd racks stored away somewhere(who collects CDs nowadays?), you can quickly turn it into a planter. Claire, over at Claire Abbelle Makes, used fake flowers and put it in the garden. But I'm sure you could use some glass bottles, use fresh flowers and put it somewhere indoors.
Candle Jar Craft: Cotton Ball Holder
This cotton ball holder looks so glam and fancy and yet is super easy to make. You'll only need a handful of supplies like old, cleaned out candle jar, brass candlestick, E-6000 glue, and a knob. Check the steps over at Dwell Beautiful.
Bench Made From Old Found Bed Frame
This is another bed frame recycled project. So if you happen to have one lying around, why not try this idea out? Simple and easy to make. And the result is quite impressive. Full instructions at Hometalk.
DIY Telephone Bookends
If you have some old phones collecting dust, you can easily turn them into these clever bookends. However, if you don't, but you really like the idea, you could give it a try and check Craig's list or some other places. Garage sales would be a good idea too. Check the steps at A Beautiful Mess.
Beauty In A Light Bulb
If you're like me and don't like throwing things, you'll love this project. Used lightbulbs turned into small art pieces or even a glass candle holder. Check it out on CFabbri Designs.
Wine bottle light pendant
I wish I could try to make this one, but unfortunately, the ceilings in my house are way too low 🙁
The steps are easy to follow, and you can experiment with different wine bottle colors too(like clear or even blue). Check the tutorial at Remodaholic or watch the video below.
Wine bottles accent lights
If you have more wine bottles or any nice spirit bottles, this is another quick and very simple project. The steps in this tutorial include drilling in the glass. But if you're not comfortable doing it, you can easily get around it and use battery-operated led lights with a bottle cork. They come in a variety of colors as well.
Wine bottle tiki torch
Who doesn't enjoy long, warm summer evenings? Sitting in a garden with a glass of wine or a book. I know I do. To enjoy it, even more, you can add to the ambiance using warm lights and decorations. I love this blue bottle, torches. So easy to make and a fantastic way of adding that holiday, beachy feeling. Check the tutorial at Patio Productions.
Old Books Into Shelves
Have you got any old books that you would never get to read and are just collecting dust? Why not create bookshelves out of real books? A simple idea for recycling unloved titles.
All you need is a power drill and some l shaped brackets like these or to add more character – the cast iron ones like these. Inspiration comes from Real Simple.
Old Mirror into a wreath
This DIY Fall wreath is a quick and easy upcycling project with an old metal frame mirror. I've found this on a curbside, so I decided to give it another chance! The mirror had a rope frame added later, and I turned the frame into a fabulous wreath, just in time for this colorful time of year—super easy fall decor idea. Check the tutorial here- An Awesome DIY Fall Wreath- Easy Upcycling Project.
Tennis Racket Mirror
If you're bored with the old rectangular mirrors, this project may be right for you. Recycled old wooden tennis rackets turned into mirrors. They're different and unique. And pretty easy to make but require a professional to cut the mirror to the racket shape. Then you just need some strong glue or mounting tape, and it's done! The idea comes from Country Living.
Toilet Paper Roll Wall Art
This idea must be the cheapest one on this list, but it looks great, and it's not difficult to make. All you need is a lot of toilet paper rolls and some supplies like glue, scissors, spray paint, and hairpins. And of course, your imagination to create any design you like. For all the steps, visit Cut Out and Keep.
Vintage Suitcase Makeover
If you happen to have one of these old suitcases and don't know what to do with it, this idea can definitely help you. You can upcycle it to match your decor and use it to store your precious little bits. I love what Christy from Confessions of the Serial DIYer has done with it. Check her post for full instructions.
Upcycled Old Jewelry box
A lick of paint goes a long way with this little project. Plus some new hardware, and you got yourself a new looking, cute jewelry box. Check Fyne Designs for details.
Chalkboard From an Old Picture Frame
And lastly, this straightforward little project from The Spruce Crafts. Upcycle an old picture frame to a chalkboard and put it somewhere in the house. You can then leave cute messages for your loved ones, or if it's a bigger size, perhaps use it as notes board a kitchen.
I hope you've enjoyed my list of easy upcycling projects and that you've found something you like and could make.
Don't forget to pin it to your upcycling ideas board:)
Subscribe To My FREE DIY Newsletter!
Stay in touch and receive things like updates, special offers, new projects, tips, gear reviews, and more. No spam, promise!
By entering your email address you agree to get an email newsletter from UpcycleThisDIYThat. I'll respect your privacy and you can unsubscribe at any time. For more details, review our Privacy Policy.