How to Make Super Easy DIY Summer Wreath
This post includes affiliate links. If you decide to make a purchase through my link, I might get a small commission for it at no additional cost to you. Thank you for supporting Upcycle This DIY That!
Making your own DIY summer wreath is a fun, easy way to add some personality to your home this season. You can use all kinds of materials to create a wreath that perfectly reflects your style.
In this tutorial, I'll show you how to make a summer wreath that is super easy using just three materials. So gather up some supplies, and let's get started!
YOU MAY ALSO BE INTERESTED IN:

25+ Super Simple DIY Beach Decor Ideas For Your Home
Upcycling Photo Frames To DIY Nautical Wall Decor
How To Make Beautiful Faux Sea Glass Mason Jars
How To Make A Diy Summer Wreath Step By Step
This wreath is super easy to make, and it took me 15 min to put it together. I used an old mirror frame that I upcycled into a fall wreath some time ago. Now the time has come for an update.
You can use a single or double metal hoop, a grapevine wreath base, or even a wooden embroidery hoop. Although I must admit with the double one or grapevine, the flowers and foliage will be easier to arrange and secure.
I bought what was supposed to be a eucalyptus garland for this wreath. Well… It wasn't. But I decided to use it anyway.
The flowers I used were several different ones bunched up with removable heads and leaves.
Arranging Leaves/Foliage On The Frame
The garland was 6ft, and I cut it to match the size of my metal frame. Then, I secured it to the frame using wire ties. I left a space for the flowers so it didn't go all the way around.
Adding Flowers
Next, I picked the flowers I wanted to use and cut the stems with a wire cutter. I slid them in between the "eucalyptus" garland and metal frame. Most of the time didn't even need to use wire ties.
I also added a small bunch opposite the bigger one for a nice balance. And that's it! Super duper fast and easy :))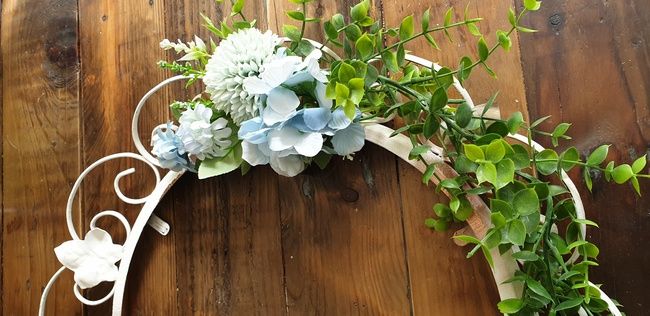 With just a few simple supplies, you can make this easy DIY summer wreath in no time! There's no excuse not to have one on your door :))
I hope you'll enjoy making your own version of this wreath and that it brings some extra cheer to your home during these warm summer months.
What other fun projects have you been working on lately? Share them in the comments below!
Subscribe To My FREE DIY Newsletter!
Stay in touch and receive things like updates, special offers, new projects, tips, gear reviews, and more. No spam, promise!
By entering your email address, you agree to get an email newsletter from UpcycleThisDIYThat. I'll respect your privacy, and you can unsubscribe at any time. For more details, review our Privacy Policy.